Eyeglasses have traditionally been associated with nerdy people who are stereotyped as socially challenged. This opinion has changed over the years, however. The truth is that some people wear eyeglasses simply because they need them physically, else they can't see! More than than that, though, the eyeglasses industry has reached a point that the products have become well designed and fashionable.a
And who better to rock those glasses and serve as models than celebrities?
Of course, eyeglasses are not a one-size-fits all accessory. In order to actually look good wearing them – health reasons aside – you have to know how to choose the frame that fits your face shape best. Seeta Singh, optician at Your Eyes Opticians, explains:
The shapes of faces greatly impacts the styles and shapes of frames to complement one's face.

An oval-shaped face needs a rectangular frames to shorten and widen the face, while a square-shaped face needs oval and deeper frames to soften the outline of the face. Heart-shaped faces do well with a rimless or semi-rimless to minimize the width of the temple.
While you may not be a Hollywood celebrity, you can choose your eyeglasses to give you that glam look as well. Let's take a look at bespectacled celebrities that will give you some inspiration.
Helen Mirren
This is one classy lady we all love not only for her acting but for her ageless beauty. In this photo, she wears frames which are squarish and yet a little round along the edges. This is perfect for her face shape, which is oblong and longish. The shape of the glasses break up the long lines of her face, emphasizing her beauty even more.
Lupita Nyong'o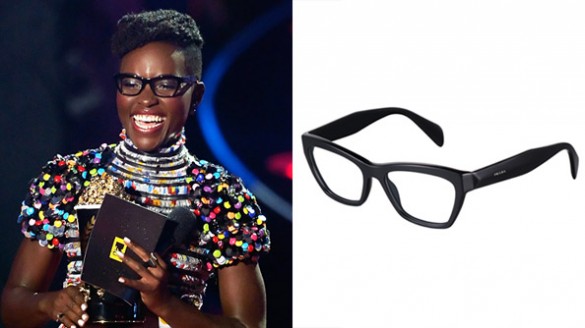 Lupita Nyong'o made waves with her performance in 12 Years a Slave, and her public appearances, together with her intelligent speeches, have made her a darling in the eyes of the public. This photo was taken during the MTV Movie Awards night, and her eyeglasses are the perfect example of how the color of the frame makes a difference.
Seeta Singh of Your Eyes Opticians also says that "colors to compliment the skin are also every important – the same frame in the wrong color does not look as good. You try to match the frames to the skin and eyes, as well as the hair. It all comes together when you color code."
Jennifer Aniston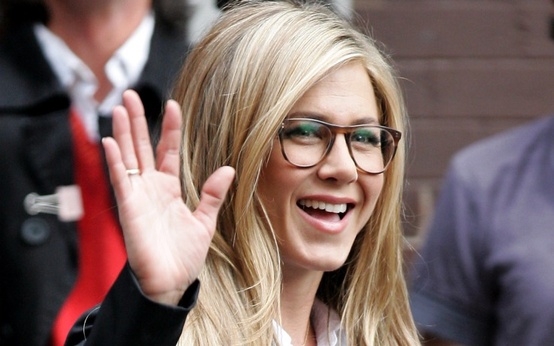 Jennifer Aniston is another celebrity whom we all love, with her pretty face and charming personality. Her face is square-shaped, so the perfect frame for her is something that is wider than the widest part of her face – that balances out the proportion. No one can deny that she is rocking these glasses!
Anne Hathaway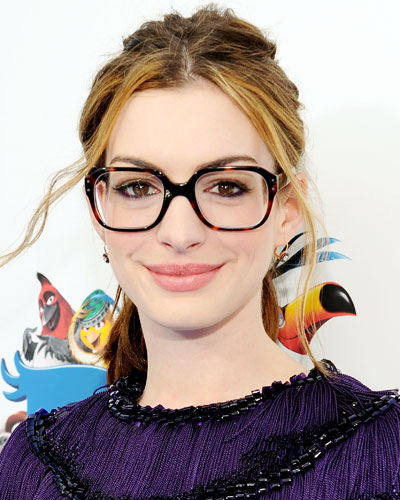 Anne Hathaway's oval-shaped face is perfectly complemented by this square frame, which also draws attention to her beautiful eyes. Notice the color tones of the frame, which also suits her skin color. If you're lucky enough to have a similarly shaped face, look for a pair of glasses like this one, and you're sure to look great!
Scarlett Johansson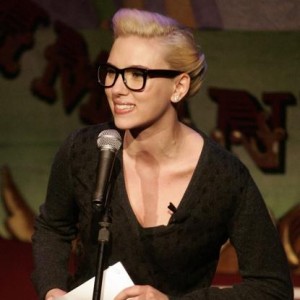 Scarlett Johansson has a rare diamond-shaped face, which is best paired with top-heavy frames. These include semi-rimless glasses. Why is this the case? These types of frames draw attention to the eyes, which then give the area more width. The result is a more balanced look.
If you want to look great in glasses as these celebrities do, before you go to an optician to have eyeglasses fitted, you may want to determine if the optician is fashion-conscious. Otherwise, you might end up with ill-fitting glasses that don't complement your face shape, your eye color, and skin color. You also should not hesitate to bring up your preferences – after all, it's you who's going to wear those glasses!