Posted by Cat as Family Relations, Mariah Carey at 1:11 PM EST on Apr, 30 2012
It's been 4 years since Mariah Carey and Nick Cannon exchanged "I do's" in an intimate wedding ceremony  in the Bahamas on April 30 2008. This year, the power couple decided to celebrate their 4 years of bliss in the city of love and renew their vows. Surprisingly, they also thought it would be sweeter to invite the press to take part in their celebration at the La Maison Blanche hotel.
Their third year anniversary last year couldn't have been celebrated any better than welcoming their twins Moroccan and Monroe into the world. This only calls for another cause to celebrate in yet another great city in another great country when their twins turn one year old this year. The couple is said to be flying to Austria by then.
Well,hats off to this couple for keeping Hollywood couple's inspired in making a relationship work despite the 10 yr age difference. Having known each other for only a month after they announced their relationship, Mariah had no qualms about the endless criticisms she got after they went public, the singer  believes they are soulmates and that their love is certainly written in her cards.
Incidentally, Mariah and Nick have been taking it easy for a while and have decided to go on a little break from their usual stints. Life and its curveballs,  has Nick  suffering from a kidney failure this year. It's been tough for the couple these past months but they seem to be basking in their unique and special devoted love for each other.

Photo Credit: zimbio.com
Photo Credit: zimbio.com

Not that I am taking the woman's side here, but isn't it Kate who ought to have more trust issues with a cheating husband? Anyhow, in the second part of Jon's interview with GMA, he said that he doesn't trust his wife anymore; that she was constantly abusing him verbally; that he was beaten down. Well, he doesn't look like someone who has been beaten down to me, does he?
Posted by franky as Angelina Jolie, Brad Pitt, Family Relations, Movie News at 9:31 PM EST on Jul, 18 2009
Brad Pitt and Angelina Jolie are rumoured to work at a sequel of 'Mr. and Mrs. Smith' and hope that the movie can reignite their marriage, revive the passion.
Although Pitt, who was still married to Jennifer Aniston, always denied it he and Jolie famously fell in love on the set of the first movie but now both struggle to keep the fire in their relationship alive. The couple, raising 6 kids and both entertaining an active high profile Hollywood career, struggle to find time and strength for each other but are eager to revive their relationship. It is said that Pitt has instructed screen writer Simon Kinberg to write a sequel, this time with kids in the story as well.
Will 'Mr. and Mrs. Smith and The Kids' light the Brangelina fire again? If not, I'll gladly cook for Angelina. Not daily though.
Photo credit: PicApp.

It all began with the Jackson 5. We all know that. And that is why A&E decided to test the waters for a reality show featuring the members of this talented family. They had already been shooting some footage when the untimely death of Michael, the most popular member of the family, occurred. Now, respecting the family's wishes, everything has been put on hold. If I were them, however, I would not trash this project just yet.
Posted by Gina as Deaths, Family Relations, Michael Jackson at 8:09 AM EST on Jun, 30 2009

Not a week has passed since MJ died, but the family has already taken steps to ensure that what he left behind will be under their control. They petitioned a judge for guardianship of MJ's kids and for the mom to be the administrator of his estate. The judge granted temporary guardianship but has not decreed anything regarding the estate.
It's not exactly your run-of-the-mill reality series but it comes close. NBC has a new genealogy documentary wherein the stars find out just who they are related to. And who are the stars? Sarah Jessica Parker and Lisa Kudrow, is all. Should be amusing.
Lindsay Lohan's family drama has not been kept a secret. At this point in time, however, father Michael says that they have a truce and that the media should stay out of it to stop adding fuel to the fire. Let's help them out a bit?
It's refreshing to hear "Divorce is not an option" from celebrities these days. Courtney Cox and David Arquette could very well be among the few who are willing to do what it takes to make their marriage work despite the difficulties they may be facing. Here's to a happy Christmas to this couple!
As the year comes to an end, Britney seems to be gaining back some of the ground that she has lost (and she lost lots of it too) over the years. With a new album and a tour in the next year, she just might make a comeback. Before she can do that, though, she needs to give over $1M to those who have helped her in keeping herself together.
Posted by Gina as Celebrity Friends & Family, Family Relations, New Releases at 12:16 AM EST on Dec, 21 2008
Well, she certainly has a lot of them now, that is for sure!  Yet this pretty little singer is not forgetting who has been with her all throughout – her mom.  Her song "The Best Day" was written for her mom, whom she pays tribute to as her best friend.  Her new album "Fearless" is out.
Posted by Splashpress Media as Angelina Jolie, Brad Pitt, Celebrity Friends & Family, Family Relations at 8:37 AM EST on Dec, 10 2008
I have to agree with Angelina here, Brad Pitt's peppy gym trainer character in the dark comedy Burn After Reading was probably the dishy Daddy-of-6′s least attractive role – not to mention sorely lacking in the grey cells department.
Brad joked about it as he told the press:
"She saw me in the gym gear and said, 'This is the first time I can honestly say I'm not attracted to you whatsoever.'"
Posted by Ryan as Fame & Fortune, Family Relations, Naughty & Nude, News at 8:43 PM EST on Nov, 23 2008
Ok. You might be asking who is Tina Sherman. I was asking the same thing until I read about her lawsuit against McDonald's. It's really an interesting story: Sherman's husband left his cell phone at McDonald's. He called the store, they kept in the back until he picked it up. Everything's ok, right?
Posted by Rachel as Britney Spears, Family Relations at 5:54 AM EST on Sep, 12 2008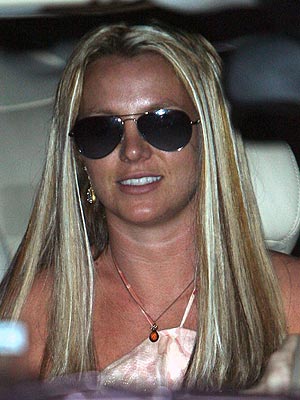 It was a typical family reunion — or as typical as it can be, if you're a Spears. On Britney's visitation day with the kids, sister Jamie Lynn dropped by with her own baby. Even ex Kevin Federline participated in the big day, hanging out with the group for about an hour before bringing the boys home.
Gee, you almost forget for a second there the court battles, teenage pregnancies, and nervous breakdowns.
Posted by Rachel as Family Relations, Lindsay Lohan at 5:56 AM EST on Aug, 30 2008
Lindsay Lohan's on another rant. On her MySpace blog, Lindsay Lohan lashes back at her Dad, Michael Lohan — who's known to have a better relationship with the press than with her. "I have a therapist, and it is not the camera man at x17."
Posted by Rachel as Celebrity Friends & Family, Family Relations at 10:57 PM EST on Jun, 27 2008
Hulk Hogan claims he's still in love with ex wife Linda, but too late for that, boy. After cheating on his wife with his daughter's close friend — eeeow. You're lucky she even talks to you.
Along with his son recently being imprisoned for a drunk driving incident that critically injured his best friend, that family's on our shortlist for "Dysfunctional Mess" award.
Posted by Rachel as Family Relations, Jessica Simpson at 10:50 PM EST on Jun, 16 2008
Rumors have been circulating that Joe Simpson has been meddling with Tony Romo's relationship with Jessica (and his business affairs).
Tony Romo flatly calls these rumors "laughable." In fact he enjoys spending time with her family, and vice versa. His own dad Ramiro even watched a golf tournament with Joe Simpson a few months ago. Last week, he and Jessica even visited Ashlee Simpson and Pete Wentz.
"Jess was giggling and grabbing onto Tony. They were both very natural and sweet with each other," says a source. "It was cute to see the sisters and their guys having such a good time."
Posted by Rachel as Family Relations, Lindsay Lohan at 11:10 PM EST on Apr, 22 2008
Ali Lohan has just accepted her first movie role in Mostly Ghostly (based on the popular book series). The fourteen year old says she "grew up" watching sister Lindsay Lohan on the set. "It made me want to do what she does. Just the whole vibe. Being there, being on camera, or onstage."
Must be a big trend — Connor Cruise is also following his parents' footsteps. Uhm, who's next. Paris Hilton's brother?
Connor Cruise practically grew up on movie sets — what do you expect with parents like Nicole Kidman and Tom Cruise? But now he's not just a Hollywood brat hanging out in the trailer while Mom finishes her scene. He's in a movie on his own, debuting in the Will Smith Drama, Seven Pounds.
Posted by Rachel as Family Relations, Lindsay Lohan at 11:30 PM EST on Apr, 19 2008
Lindsay Lohan'shad enough of her dad's hunger for publicity. "I just wish that he wouldn't go and talk to the media. It really upsets me and I wish he would stop." Michael Lohan has been hogging air time with comments on his divorce from Dina, the E! reality show "Living Lohan" and Lindsay's colorful life.