Nothing seems to stop the pressure to be skinny for one to look good  these days. Good ole tinsel town has seen one too many transformations of celebrities that have  gone from luscious beauties to just pieces of muscle, skin and bones wrapped in designer clothing.
And although we're all gung ho about looking healthy, it just leads you to question what does looking beautiful and healthy really mean  for these Hollywood celebrities.  Does it mean weighing less than 100lbs? Or wearing a size 0? Or getting all those muscles to show on camera?
True enough we've seen a lot of these Hollywood women morphing into svelte figures  over the years and as short as a month they can just turn into a stick figure with little lady lumps and bumps. Whether roles have forced them to  take that extra effort to lose weight or  just plain glamour pressure that can be unforgiving for any  celebrity whose every bulge and curve gets scrutinized by the public eye.
Well, these women can be real inspirations for us average beings . Knowing that we can transform ourselves into almost any shape and take on a whole new life sans the excess baggage. Then again, not everyone can afford personal trainers, fancy diet food or get into weight loss boot camps. But, we still get to live through our fave celebrities who are just as vulnerable to binging and  excess adipose tissue.
Here are some Hollywood Weightloss Wonders :
Renee' Zellweger –  Just amazing how this woman was able to yoyo diet to epitomize the characters she played in her much raved about movies.
Carnie Wilson – Nothing but pure admiration for her courageous decision to undergo gastric bypass after years of just embracing who she is and her many great talents.
Kirstie Alley – now who didn't just have big love for this woman? Having a gorgeous face and a quirky personality was all she needed that made her  a big beautiful woman, that had everyone watch her awesome transformation.
Mariah Carey – post baby bumps and lumps didn't slow down this diva to get back into top performance shape. However much she admitted to having "some issues" , she certainly  pulled through looking like a very hot momma!
Nicole Richie – watching Nicole seriously drop some poundage left many people in shock as she became disturbingly waif.  Although she's now looking much more in normal range of body mass, we all guess momma-hood has brought out the best in her.
Lindsay Lohan – we've seen her during her peachy teenage years and having blossomed into a troubled young woman, it's not surprising that she would go through some weight issues as well.  Her nearly stick figure was due to  a habit of not eating at all.
Courtney Love – her Celebrity Skin days have long passed and all that's left is indeed, some celebrity skin on her abdominal area. We don't really know how she lost weight, but we've got a lot of raised eyebrows as to the type of regimen she had subjected herself to lose so much weight.
Photo Credit: thehollywoodgossip.com
Photo Credit: shrunkenviolets.blogspot.com
Photo Credit: mikeresponts.wordpress.com
Photo Credit: x17online.com
Photo Credit: keywordpicture.com
Photo Credit: espritlibre.ws
Photo Credit: onlinebreakingnewstoday.com
Photo Credit: deceiver.com
Photo Credit: celebritydietdoctor.com
Photo Credit: behollywoodfit.com
Photo Credit: celebritydietdoctor.com
Photo Credit: mirror.co.uk
Posted by Kate Alvarez as Angela Missoni, Eva Mendes, Joy Bryant, Margherita Missoni, Nicole Richie at 11:00 AM EST on Mar, 22 2010
During the Missoni Beverly Hills store opening last Wednesday, one key spring fashion trend stood out—prints. See the celebs that were present during the event, and their printed designer outfits.

Nicole Richie in a Missoni retro-print dress

Eva Mendes carries a minaudière Ferragamo clutch to complement her Missoni gold and grey knit dress.

(L-R) Margherita Missoni in her family signature zigzag knit print, Angela Missoni in a lacy empire-cut number, and brand ambassador Joy Bryant in a gold asymmetrical Missoni maxi dress
Posted by Kate Alvarez as Mary-Kate Olsen, Nicole Richie, Vivienne Westwood at 12:00 PM EST on Feb, 09 2010
The Fall/Winter season is still making its Hollywood rounds, hence the need to pile up on warm clothes. Three fashionistas show us that oversized and over-piled can be stylish. Or not.

Designer Vivienne Westwood attends the UK premiere for Food, Inc. held the at The Curzon Mayfair on February 8 in London, England.

Sometime in January, Nicole Richie goes off to meet a friend in Beverly Hills.

Mary-Kate Olsen steps out of her New York City apartment on a chilly February 4 morning.
Would you wear the hobo look?
Posted by MrAlmostWrong as Nicole Richie at 11:25 AM EST on Jan, 14 2010
She used to be known as the tag along of Paris Hilton then they had their fall out. Then she started dating one of the Madden brothers, got pregnant had to get married and now she is a mom. Definitely not a MILF, but just a mom and there is nothing wrong with that. But she always looks a bit weird to me and this camera angle isn't helping her out too much in my opinion.
Her head looks too big for her body and her feet seem to be taken from the body of a WNBA player. However, since this photo was taken for a Japanese Vogue photoshoot you have to figure that they did it because they like anime and she does sort of look like an anime character here. The Japanese are much wiser than they let on. Even though we bombed them back to the stone age they have been secretly toiling away at a plan to get back at us and for some reason I have a feeling it includes Nintendo and Miley Cyrus. I can't put all the pieces together yet, but I will one day. We can only hope I do it before it is too late.
Wonder why Nicole and Paris don't hangout anymore. You just never know who your millionaire friends really are until they sex up your husband's brother. I tell you…
Posted by Kate Alvarez as Black Eyed Peas, Christina Aguilera, Fergie, Jennifer Lopez, Kim Kardashian, Lady Gaga, Mariah Carey, Nicole Richie, Pamela Anderson, Performances / Events at 12:44 AM EST on Jan, 04 2010
It's the Year of the Tiger, according to Chinese astrology. "Rawr," I say! We spied on Hollywood's party animals to see how they unleashed their inner tigers (and tigresses) on New Year's Eve.

Lady GaGa performed at the Fontainbleau Hotel in Miami Beach, Florida. It wasn't just her new 'do and getup that spelled extravagant; she reportedly checked in a $15,000-a-night penthouse.

Kim Kardashian at a Pre-New Year's Eve Party at Eve Nightclub, Las Vegas.

Pam Anderson was escorted by some interesting creatures at the Gridlock 2010 New Year's Eve bash at Paramount Studios, Hollywood.

Hot mommies Christina Aguilera and Nicole Richie left the little ones at home to party in Vegas. Nicole hosted the LAVO party with beau Joel Madden, while Christina hosted and performed at TAO.

Fergie (right) performed with the Black Eyed Peas at the Mandalay Bay Events Center in Las Vegas. It was one of the many gigs they had for the New Year weekend.

Mariah Carey got her Mimi on at Madison Square Garden in New York, while hubby Nick Cannon played deejay offstage.

She may have gotten the crowd going at Times Square, but I'd stay away from the skintight suit if I were J.Lo.
Posted by Gina as Health, Nicole Richie, Tid Bits & News at 11:50 AM EST on Nov, 19 2009

Stars are not immune to diseases that "common" people get – take Nicole Richie. She has reportedly been admitted to Cedars-Sinai because of pneumonia. Her rep says she is doing well. I am sure they're keeping her warm there. Get well soon, girl!
Posted by Gina as Nicole Richie, The Hottest, Tid Bits & News at 1:44 PM EST on Nov, 10 2009

One thing you can say about Nicole Richie – she is looking fabulous even though she just gave birth! Her secret? Dancing! So if you want to get that body, you might want to give it a try. Pity I have two left feet.

New mom Nicole Richie has been showing off her nice post-baby bod. This time, it's her new hair do that we see. That pic, from US Magazine, shows off Nicole's layered hair, which is about 7 inches shorter than it was. Obviously, she's still a blonde. What do you think of her new look?

It has only been a week or so since Nicole Richie gave birth, but she was already spotted in L.A. running errands. Take a look at that pic from US Magazine and tell me if she is not looking good! You wouldn't guess that she just gave birth less than a month ago!
Posted by Kate Alvarez as Celebrities, Joel Madden, Nicole Richie at 1:33 PM EST on Sep, 10 2009
It's a boy for Nicole Richie and Joel Madden! A 7-pound, 14-ounce Sparrow James Midnight Madden was born in the morning of September 9, 2009. The couple's first child, baby girl Harlow Kate, will be turning two next year.

Nicole Richie, a month before popping. Photo from Splash News.
It looks like the stars are aligned for their second baby. According to ancient Chinese beliefs, the date 9/9/9 is considered extremely lucky. It's no wonder high-rolling gamblers flocked to the casinos, while hundreds of couples tied the knot on this auspicious date.
In China, the number 9 means "longevity," making it a triple threat, or better yet, triple treat this year. According to numerologist and radio host Jerome Carter, 9/9/9 is an incredible date to be born on. "That child will be born with a special gift. He or she will have a direct link to the mysteries of God and life," he told ABCNews.com. "He or she has potential to be a world leader."
As for the baby's name, baby name expert Pamela Redmond Satran revealed that bird names are "in" for Hollywood parents this year. "Bird names are definitely getting hotter," Satran told usmagazine.com. She also revealed that bird names represent a spiritual symbolism. "They're seen as light, one with the sky and nature and in a more uplifting, positive way than other animals, like a fox, which is more macho. Nicole Richie is a free spirit."
Luck definitely has begun for the newborn. A-list celebrities such as Ashlee Simpson and Gwen Stefani have flocked to the hospital to welcome her to the world. Dad Joel Madden even tweeted:
"1st day of his life & my son is already a trending topic on twitter. That's right son, ur just like your old man. wait, i've never been a #TT."
Congratulations, Nicole and Joel!
Posted by Gina as Baby Bumps & Bellies, Joel Madden, Nicole Richie at 9:45 AM EST on Feb, 23 2009
Here's one Madden who seems to be very much wanted. While Benji Madden has been denied by one woman after the other, Joel Madden has been together with Nicole Richie for a while now. Indeed, they are so together that they are expecting another baby! Congratulations to the couple.
Posted by Gina as Celebrity Babies, Nicole Richie at 10:49 AM EST on Feb, 03 2009
Mommy Nicole is not a party girl anymore, thanks to baby Harlow. She just turned 1 and the former party girl spends time mostly at home to take care of the baby. Nice.
Posted by Rachel as Nicole Richie at 10:19 PM EST on Dec, 02 2008

Nicole Richie had just given birth but the girl is looking so good already. This is a far cry from her anorexic look a couple of years ago.
Posted by Rachel as Nicole Richie, Paris Hilton at 6:36 PM EST on Jul, 14 2008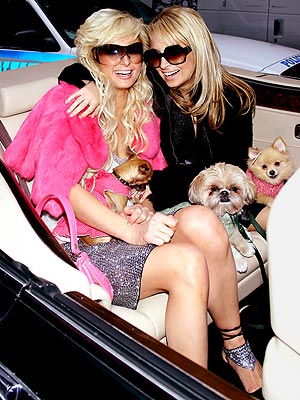 Paris Hilton and Benji Maddon are moving next door to Nicole Ritchie and Joel Maddon.
Sounds like the twins — and BFF's — can't bear to spend a minute (or a mile) apart.
Not really. The word is that Nicole's pretty pissed about the arrangement.
"Nicole moved out there to get away from the paparazzi, but when Paris calls them, they come to her quiet street and disrupt everything. She's getting a little fed up."
Sounds like a great sequel to their show A Simple Life : "The Suburban Life."
Posted by Rachel as Celebrities, Nicole Richie at 11:59 AM EST on Jun, 26 2008
Nicole Richie and Joel Madden are very happy, but they have no plans of getting married. "We don't have any plans for that right now. We're just happy, and we're being a family, and that's where we're at right now. But marriage means something different to everyone."
So their focus now is the family, and they don't need a marriage certificate to make that bond "official." In fact, Joel Madden thinks being a dad is the coolest thing on earth. "It's crazy," he says. "Every day she does something new. When she reaches for me, it's awesome! Just watching her grow, it melts me!"
Posted by Rachel as Engagements & Weddings, Nicole Richie at 11:45 PM EST on Jun, 16 2008
Joel Madden announced that he and Nicole Ritchie got married in his blog.
Sort of.
"We Did It! Nicole and I Finally Got Married!!" he said. Then he followed it up with: "HA HA. JUST KIDDING."
He did it because of friends and family calling him after an article in Star about his "2 million dollar wedding." And they were asking why they weren't invited. "I guess the only answer I could give them was that I didn't know we were having one."
Well he has a good sense of humor!
Posted by Rachel as Celebrity Babies, Joel Madden, Nicole Richie at 10:41 PM EST on May, 26 2008
Nicole Richie and Joel Madden's daughter is a rocker! She likes nursery rhymes, but her favorite is The Cure. Joel is definitely proud of her musical tastes. Her playlist includes "a lot of Disney stuff and classical. She likes Good Charlotte. And she likes her granddad [Lionel Richie]'s music. She likes old stuff." She even moves to the music, kicking her legs.
Just a few months old, and an MTV fan already?
Posted by Rachel as Awards & Accolades, Celebrity Kids, Nicole Richie at 9:09 PM EST on Apr, 09 2008
After days of snarky Hollywood gossip – of spitting, suing, unhealthy obsessions with horses etcetera, its nice to see a bit of wholesome family bonding, especially in the form of Nicole Ritchie, who, since becoming a Mom, has straightened up and become less of a shall, we say…Paris?
Anyway, Nicole was at the ASCAP awards supporting Dad, who received the lifetime achievement (is he that old?). Also there was Nicole's baby sister, 8-year-old Sofia, Lionel's wife with Diane Alexander.
Posted by Rachel as Nicole Richie, Paris Hilton at 11:20 AM EST on Mar, 09 2008
Looks like it's official. Paris Hilton is going around town sporting a ring with "BM" in big diamonds. The BM is Benji Madden, of course.
Benji's ex Sophie Monk isn't wasting time being jealous, of course. She's hooked up with multi-millionare Jason Rubin. So how long will it be before Paris gets her hands on him?