Nothing seems to stop the pressure to be skinny for one to look good  these days. Good ole tinsel town has seen one too many transformations of celebrities that have  gone from luscious beauties to just pieces of muscle, skin and bones wrapped in designer clothing.
And although we're all gung ho about looking healthy, it just leads you to question what does looking beautiful and healthy really mean  for these Hollywood celebrities.  Does it mean weighing less than 100lbs? Or wearing a size 0? Or getting all those muscles to show on camera?
True enough we've seen a lot of these Hollywood women morphing into svelte figures  over the years and as short as a month they can just turn into a stick figure with little lady lumps and bumps. Whether roles have forced them to  take that extra effort to lose weight or  just plain glamour pressure that can be unforgiving for any  celebrity whose every bulge and curve gets scrutinized by the public eye.
Well, these women can be real inspirations for us average beings . Knowing that we can transform ourselves into almost any shape and take on a whole new life sans the excess baggage. Then again, not everyone can afford personal trainers, fancy diet food or get into weight loss boot camps. But, we still get to live through our fave celebrities who are just as vulnerable to binging and  excess adipose tissue.
Here are some Hollywood Weightloss Wonders :
Renee' Zellweger –  Just amazing how this woman was able to yoyo diet to epitomize the characters she played in her much raved about movies.
Carnie Wilson – Nothing but pure admiration for her courageous decision to undergo gastric bypass after years of just embracing who she is and her many great talents.
Kirstie Alley – now who didn't just have big love for this woman? Having a gorgeous face and a quirky personality was all she needed that made her  a big beautiful woman, that had everyone watch her awesome transformation.
Mariah Carey – post baby bumps and lumps didn't slow down this diva to get back into top performance shape. However much she admitted to having "some issues" , she certainly  pulled through looking like a very hot momma!
Nicole Richie – watching Nicole seriously drop some poundage left many people in shock as she became disturbingly waif.  Although she's now looking much more in normal range of body mass, we all guess momma-hood has brought out the best in her.
Lindsay Lohan – we've seen her during her peachy teenage years and having blossomed into a troubled young woman, it's not surprising that she would go through some weight issues as well.  Her nearly stick figure was due to  a habit of not eating at all.
Courtney Love – her Celebrity Skin days have long passed and all that's left is indeed, some celebrity skin on her abdominal area. We don't really know how she lost weight, but we've got a lot of raised eyebrows as to the type of regimen she had subjected herself to lose so much weight.
Photo Credit: thehollywoodgossip.com
Photo Credit: shrunkenviolets.blogspot.com
Photo Credit: mikeresponts.wordpress.com
Photo Credit: x17online.com
Photo Credit: keywordpicture.com
Photo Credit: espritlibre.ws
Photo Credit: onlinebreakingnewstoday.com
Photo Credit: deceiver.com
Photo Credit: celebritydietdoctor.com
Photo Credit: behollywoodfit.com
Photo Credit: celebritydietdoctor.com
Photo Credit: mirror.co.uk
Posted by katy as Lindsay Lohan, Paris Hilton, Tid Bits & News at 3:40 PM EST on Jun, 13 2011
We all know how consequences of our actions sometimes catches up to us no matter how much the price we've already paid for it. With the media gone crazy on the plight of Lindsay Lohan and her constant battles with authorities, it is pretty easy for other celebrities to poke fun at her self-inflicted misfortunes.
While on the set of her reality TV show, The world according to Paris, Paris Hilton jabbed a rather painful joke at Lindsay Lohan. A woman asked Paris for  a pair of earrings she was wearing, and although she agreed to give it away, the heiress was quoted as saying. " I'm not Lindsay. If I were Lindsay, I'd be stealing the earrings and not giving them away."
Her rather insightful joke comes after Lindsay Lohan's arrest for theft of a necklace from a high end boutique called Kanoffie & Co in LA. Lohan has most certainly broken her 2007 probation which was given after her arrest for DUI due to the theft charges filed against her last April.
The once shining child star, was cast in a shadow of a steep fine and  3 years probation after pleading no contest to the charges of theft.  She is currently serving 480 hrs of community service and  120 days in jail. She is to turn herself in on June 17.
The 24 yr old actress has begun her community service last week and shall be serving her jail term under house arrest.
How sad indeed for such a beautiful face be so riddled with poor decisions and judgement in a life that expects her to be on top of her game. She admits to many of her poor decisions but easily quips she is a fighter and is aware of how much work she needs to get done to enable her audience to shower her with the same respect.
Photo Credit: jessicaemily01
Photo Credit: AMU15041
Posted by joehart as Lindsay Lohan at 1:15 PM EST on May, 03 2010
Actress Lindsay Lohan, aka LiLo, is said to be gearing up to play another famous LiLo, porn star Linda Lovelace. Lovelace, who died nearly eight years ago due to injuries in a car accident, is best known for her role in the hardcore 1973 porn classic Deep Throat. She also appeared in 1974′s Deep Throat II as Nurse Lovelace.
Personally, I see no resemblance between the two, other than that they both had difficult careers. But with LiLo struggling in her career, complaining about her DJ ex-girlfriend Samantha Ronson, fighting off her dad's grubbing attempts at becoming conservator of her estate, and generally coming a long way from her sweet girl image, maybe she'll find some direction.
I guess this explains the gritty 'art' photos Lohan has been tweeting about, shot by the very same photographer, Tyler Shields, who apparently revealed her landing the Linda Lovelace role in the indie film Inferno. Let's just hope that the Mean Girls actress doesn't permanently find herself with a new career. If she does, she might want to take care of her nasty toes and stay out of celeb bloggers closets. Oh yeah, and stay out of jail.
Posted by Kate Alvarez as Lindsay Lohan at 12:00 PM EST on Apr, 30 2010
Uh-oh. Lindsay Lohan's recent tweets haven't been very helpful in cleaning up her image.
Yesterday, she posted a Polaroid shot taken by photographer Tyler Shields. The photo instantly became controversial—she was provocatively holding a gun to her lips. The shot was part of a series of pictures for Tyler's new book, The Dirty Side of Glamour. After an outpour of criticism, she replied to one of her fans: "It's not soft core porn hunny, it's called ART."
A few hours later, she posted a behind-the-scenes video of the photo shoot courtesy of hollywood.tv. The hollywood.tv crew disabled comments. Perhaps they had a hunch that haters would take it to their youtube site.
She also slammed her dad Michael Lohan, as well as her ex-girlfriend Samantha Ronson by tweeting: "[sic] tired of @samantharonson Playing the innocent card, while chatting to tmz just like my ex-father, when all I've ever done is fall for a girl."
Yikes. Somebody's having a bad week.
Hollywood's famous gossip turned 32 last week and he made sure that he celebrated it with his favorite people. As the title says, Perez Hilton's "Carn-Evil Party" was a star-studded affair. You would've thought that Paramount Studio was hosting a red carpet premiere.
Looking at the big names that dropped by to greet Perez a happy birthday, you'd realize that Hollywood's most written-about celebrities are actually good sports!

The birthday boy with Lindsay Lohan

Paula Abdul makes her way to the bash.

Katy Perry without her significant other

Bieber for Biebettes

Former Playboy housemate Bridget Marquardt

Ashley Tisdale keeps it casual.
Cheers, Perez!
Posted by MrAlmostWrong as Lindsay Lohan at 10:32 PM EST on Jan, 26 2010
I can't tell you how many times this happens. I come home from a hard day at work only to find some celebrity mooching in my closet trying on the clothes that I stole from their closet. I mean don't they understand the hard work I put in breaking into their homes, finding the clothes I want and sneaking back out again? Apparently they don't and they believe that we are playing some game here because then they do the same thing to me.
Unbelievable the type of pressure I am put under in these situations. I never know what to do. When I catch them do I call the cops and report that they are trying to steal goods that I stole from them initially or do I get my camera and make this a fashion show? In this case I decided to make it a fashion show and I have to admit, it isn't that bad.
I'll give Lindsay one thing, she may be batcrap crazy, but she has the personality of a sea dragon and that is a very good thing. We had fun during this shoot, but it was a bit awkward afterwards as we didn't know what to do. I decided that she could keep one piece of clothing and if she wanted the rest she would have to break in and not get caught. Let's see how she pulls it off.
Posted by MrAlmostWrong as Lindsay Lohan at 7:56 PM EST on Jan, 04 2010
As you already know, Lindsay spent New Year's in St. Barts. What you might have missed though is that her toes were not looking status quo like. I mean if you have ugly feet you have ugly feet, but there is no reason to walk around with half-painted toenails, it is just tacky. It can be hard enough trying to the crackhead image, but if you are just going to prepetuate it with your nasty toes then you deserve every bad thing that comes your way.
I mean, isn't it enough that her sister was struggling with her swimsuit? My only guess was that she saw her sister's swimsuit and figured she could get away with the sloppy toes because everyone would be too focused on what she was trying to pull off.
It's a sound strategy I guess and I do the same thing with my little brother, except I don't let him wear a swimsuit that is too small. Instead, I dress him up in a white robe with a hood and walk around with a rope. It seems to keep the attention off of me, but unfortunately for him lots of people give him a bit too much attention if you know what I mean.
You don't? That is too bad. I wish I could help you out there, but I can't.
Posted by Kate Alvarez as Lindsay Lohan at 4:20 AM EST on Jan, 04 2010
While most celebs partied the night away in Vegas, New York, Hollywood, and other party spots in the US, Lindsay Lohan ditched the festive winter celebrations for the sunny Caribbean Islands.
Dressed down in bikinis and flip-flops, Lindsay and her sister Ali were spotted by the paparazzi around Gustavia Harbor as they welcomed the New Year. Their itinerary included shopping, boating, and frolicking under the sun.
Russian billionaire Roman Abramovich was in charge of the celebrity-packed New Year's celebration in St. Barth, and other VIP guests included Beyonce, Jay Z, Orlando Bloom and Miranda Kerr.
Posted by MrAlmostWrong as Jason Segel, Lindsay Lohan at 5:32 AM EST on Dec, 08 2009
While Tiger is trying his best to stop women from coming out the woodwork, Lindsay Lohan is trying her best to drive attention towards her. Last week it was John Mayer and Cash Warren and this week she has bagged Jason Segel.
You can say all you want about her having STDs and being raggedy, but if she can bang almost any celeb she wants, she has some mad skills. She has lost all attractiveness in my book so this is even more amazing feat to me and somewhere there is a lesson to be found for women across the world. I can't teach you that lesson because I feel it is only fair that you learn it on your own, but to put things in perspective…
…she is having sex with the men you want to have sex with. And she is broke. And has no star power. And has nothing in life going for her.
It's only Monday, things will get worse.
Posted by MrAlmostWrong as John Mayer, Lindsay Lohan, Sam Ronson at 4:59 PM EST on Dec, 03 2009
So the story goes like this, John Mayer goes to Butter nightclub in NYC. Lindsay Lohan goes to Butter nightclub in NYC. Samantha Ronson is DJing at Butter nightclub in NYC. Do I even need to finish?
Lindsay sat at John's table. John worked some moves with Samantha and got her to come join his table. The three had a great time and went their separate ways…or did they? Have you ever known John Mayer to pass up on a piece of the pie? Have you known Lindsay Lohan to miss eating the last sausage on the grill?
This is what came from their Twitter accounts that fateful night.
@johncmayer shhhhhhhhhhhhhh butter-face
I've got to finish boning my mistress early so that I can go home and explain to my kid that he's lost a role model. What a shame.
Now I'm not saying they boned, but they had sex. Please do not bother to reach the CDC in Atlanta because the whole facility has been relocated to New York to handle the STD apocalypse. The Mayans believed the world would end in 2012 through natural disasters. This is completely and utterly false. The world will end when the orgy of Lindsay Lohan, John Mayer, Paris Hilton, Heidi Montag, Spencer Pratt and Carrot Top has reached its pinnacle and giant crab-like monsters roam the Earth.
I will be safely stowed away in my Trojan covered bunker. Did you know Twinkies last forever?
If you really care to follow these events, Celebitchy has much more info.
Posted by Gina as Celebrity Friends & Family, Lindsay Lohan at 10:32 AM EST on Nov, 06 2009

To say that her dad's a loser apparently not enough for Lindsay Lohan. Now, she is giving her dad a dose of his own medicine. Using Twitter, she is dissing daddy: "He's a deadbeat dad. He's disgusting to do this he needs help." She also says that he threatened to kill her mom. What a whacked out family!
Posted by Kate Alvarez as Claudia Schiffer, Dita Von Teese, Fashion, Fashion Week, Gwyneth Paltrow, Katy Perry, Lindsay Lohan, Mary-Kate Olsen, Max Snow, Performances / Events, Prince, Rihanna, The Red Carpet, Who Wore It Best? at 5:33 PM EST on Oct, 07 2009
The best place for celebs to show off their hot designer duds is in the VIP section of fashion shows. Check out these Hollywood fashionistas who managed to steal the attention away from the catwalks at the Paris Fashion Week Spring/Summer 2010. Who wins your vote for best dressed?

Rihanna attended the Jean-Paul Gaultier Pret a Porter show wearing a daring cutout number. Accompanying her at the fashion shows is stylist Mariel Haenn.

She also managed to keep her hands warm in a jewel-encrusted Chanel muff in the French designer's show.

Dita Von Teese arrived at the Christian Dior show in her signature old Hollywood glam look.

Supermodel Claudia Schiffer went for military chic at the Chanel Pret a Porter show.

It's in the jeans. Gwyneth Paltrow kept it casual at the Stella McCartney show in Palais De Tokyo.

Katy Perry went hot for sequins at the Sonia Rykiel show. To the surprise of her fans, she ditched her usual colorful retro wardrobe and went for a darker look.

Lindsay Lohan (right) and Spanish designer Estrella Archs walked the runway for Emmanuel Ungaro. Lohan was introduced as the fashion brand's artistic director, much to the dismay of critics.

Singer Prince outshone the other men (and women!) at the Grand Palais for Chanel. His sexy high heels will put any catwalk diva to shame.

Rocker dude meets boho chick. Couple Max Snow and Mary-Kate Olsen attended the Giambattista Valli Pret a Porter show as part of the Paris Women's Wear Fashion Week in Jardin des Tuileries.

Lily Allen (right) gave a surprise musical performance at the Chanel Pret a Porter show. She popped out from a pile of hay to perform her hit song "Not Fair."
Posted by Gina as Breakups & Goodbyes, Celeb Meltdown, Lindsay Lohan at 10:15 AM EST on Apr, 08 2009
Lindsay is devastated over her breakup with DJ Sam. This despite the fact that she said they did it so Lindsay can focus on herself? I think it has reached the point that Sam's family is considering a restraining order against Lindsay! Bad…
Lindsay Lohan's family drama has not been kept a secret. At this point in time, however, father Michael says that they have a truce and that the media should stay out of it to stop adding fuel to the fire. Let's help them out a bit?
Posted by Splashpress Media as Celeb Meltdown, Lindsay Lohan at 5:04 PM EST on Dec, 03 2008
And I thought I was the only one getting increasingly annoyed with Facebook! Well, La Lohan was in a fit on rage recently when she discovered that the social networking giant had closed her account, claiming that she was a fake!
" At first I laughed, but then I got angry. Angry because, with ALL the people that PRETEND to be me on Facebook, they decide to say I AM THE FAKE."
Lohan fumed. For now, the tres annoyed star will be sticking to her MySpace page.
Posted by Rachel as Celebrities, Lindsay Lohan at 8:07 AM EST on Oct, 28 2008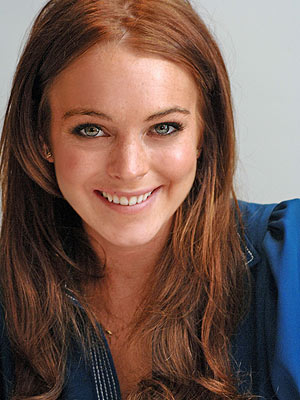 Lindsay Lohan's "girlfriend" Samantha Ronson may be surgically attached to the troubled actress but that doesn't mean she's turned lesbo.
According to The Sun, Lohan said that Ronson is the only girl she'll go for and that if things don't work out with her then she'll date guys again.
Hmm, a non-commital lesbian.