Who wouldn't want to smell like their favourite celebrity? With celebrity perfumes, you can. If you want to know more about the hottest fragrances available, here are the celebrity perfumes of 2012. But why just read about it? Visit your favourite department store today.
Fame by Lady Gaga
Initially, Lady Gaga's perfume was said to be inspired by the smell of blood and semen. The controversial singer later said Fame would smell like an "expensive hooker". But the truth is that Fame, Lady Gaga's first fragrance, combines notes of Tiger Orchid, apricot, incense, Atropa belladonna and saffron. Read the rest of this entry »
Posted by Czarina as Celebrities, Jennifer Lopez at 3:17 AM EST on May, 17 2012
Jennifer Lopez bagged the number one spot for Forbes Celebrity 100 List for this year. The sexyLatinawas a surprise winner beating Oprah Winfrey who only lands at second place.
It seems like all her hard work in the entertainment business for the recent year has paid off. Contributing to her success also included her clothing line at Kohl's, her fragrances and various endorsements to date.
Since Lopez signed in to be one of the judges for "American Idol," it seemed to have brought her luck back. The singer/dancer and mother to twins Max and Emme managed to bounce back and this time, it was huge.
Although JLo isn't the top earner from the list, despite her total earnings of $52 million from last year, she managed to snag title of "most powerful celebrity." Her cumulative score in press, social media and web has made her number one.
Oprah Winfrey took the number two spot while Justin Bieber came in third. Click here to see more of Forbes Celebrity 100 List for 2012.
Photo credit: Vogue
Posted by Gina as Jennifer Lopez, Tid Bits & News at 5:10 PM EST on Nov, 29 2009

Jennifer Lopez's life is about to become crazy. Her ex is filing a lawsuit against her and her team for a whopping $100 million! Ojani Noa says it's all about fraud and interfering with his project. This is in response to J-Lo's initial filing of a lawsuit against him and his film (which includes her on a motorcycle without, er, lower garments). Who's going to come out on top?
Posted by Gina as Career Moves, Jennifer Lopez, Jimmy Buffet, Marc Anthony at 12:40 PM EST on Jul, 22 2009

Well, in a business kind of way. He got minor stakes in the team, together with Jimmy Buffet and Gloria Estefan. Marc Anthony and wife J-Lo were both given jerseys with their birthdays as their numbers. Cool, huh?
Posted by Rachel as Birthdays, Jennifer Lopez at 6:35 PM EST on Sep, 16 2008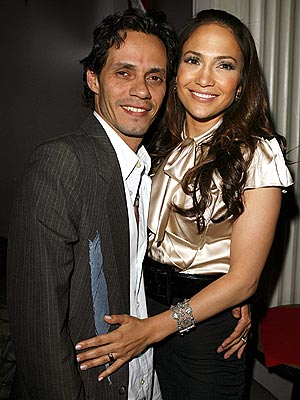 How sweet of Jennifer Lopez! The actress threw a surprise birthday bash for her husband, Marc Antony.
She told him the weekend was "too busy" to do anything special for his 40th birthday, then surprised him with a Cuban-themed bash. Marc Antony was "blown away" by the wonderful preparations.
Posted by Rachel as Birthdays, Jennifer Lopez at 3:41 AM EST on Jul, 24 2008
Happy birthday, Jennifer Lopez! The actress enjoyed a quiet but meaningful day with hubby.
Posted by Rachel as Jennifer Lopez at 11:51 PM EST on Mar, 31 2008
Jennifer Lopez shows off her post-baby body — and she's looking great! The dark circles under the eyes are the only telltale signs of the late night diaper changes and midnight feedings. Otherwise, she and hubby Marc Antony look just as happy (and as fabulous) as ever.
Posted by Rachel as Celebrity Kids, Glossy Covers, Jennifer Lopez at 12:19 AM EST on Mar, 21 2008
Check out the exclusive interview of Jennifer Lopez on being a mom to twins.The article includes photos of the new family in the Long Island home.
Posted by Rachel as Celebrity Babies, Jennifer Lopez at 3:08 AM EST on Feb, 23 2008
Jennifer Lopez' twins have arrived! Her daughter (born a little after midnight) weighed 5 pounds and seven ounces. Her son followed 15 minutes later and weighed 6 pounds.
.
Congratulations!
Posted by Rachel as Jennifer Lopez at 3:04 PM EST on Feb, 07 2008
Jennifer Lopez' father confirms that his daughter is expecting twins. Apparently it runs in the family.
The proud grandfather's already bought gifts for the babies. "In Puerto Rico it's custom to buy an azabache [black stone] bracelet for babies to protect them from the evil eye, it's part of our culture," he said.